Easter 2023 - FROM DEATH to life
As we look to Easter we're reminded that the death and resurrection of Jesus is of ultimate significance! It doesn't just make life better - we're taken from DEATH to LIFE.  As we walk through this season together, we mark the death of our Saviour. And then His victory, conquering DEATH, rising to LIFE and making a way for us. 
Come along to a service as we explore how we get to share in His death and life.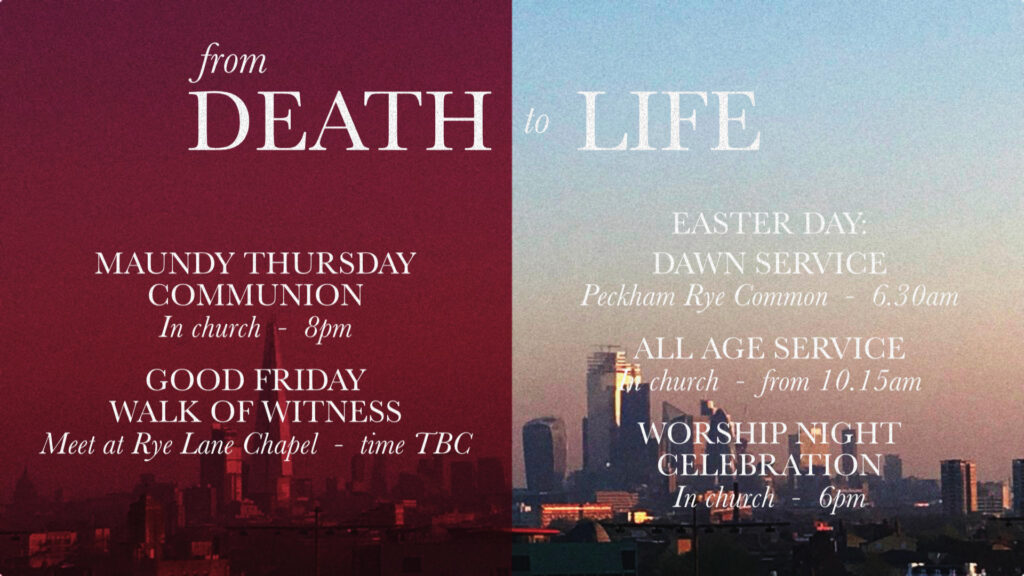 MAUNDY THURSDAY - 6th April
A reflective communion service, remembering the last supper Jesus had with His friends and the love He poured out to them. In church at 8pm, all welcome.
Peckham Churches Walk of Witness
We're glad to be able to meet with our friends again this year as we join together as Christians in Peckham, testifying to Jesus. Meet at 10:30am at Rye Lane Chapel (next to Primark) and walk to Peckham Square in front of the library for a short outdoor service. 
Easter Sunday - 9th April
We'll be celebrating risen King Jesus throughout the day and you are welcome to join us.
6:30am - Dawn Service outdoors on Peckham Rye Common
10:30am - Easter Day service, church and online. Arrive early for hot cross buns.
6pm - Easter Worship Night.